Capabilities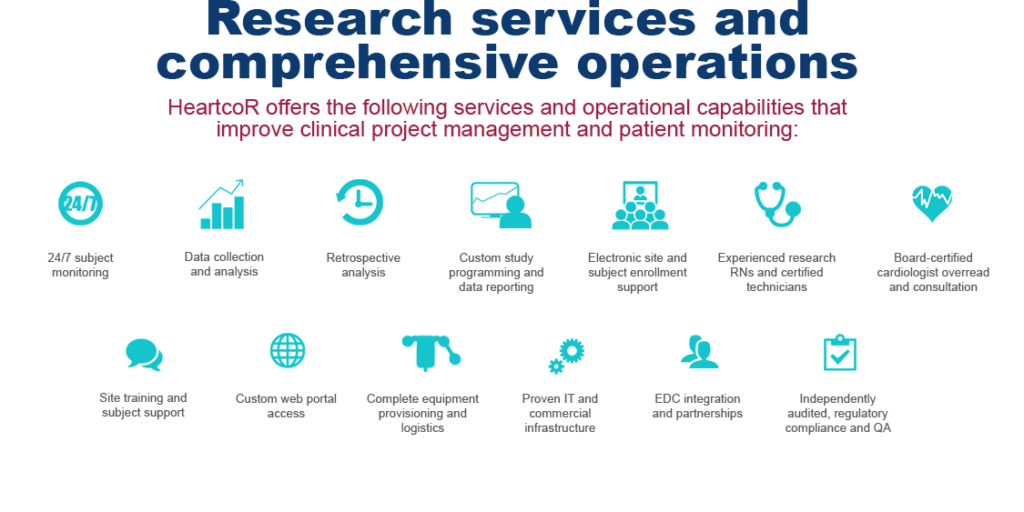 Project & data management
Our team provides management and supervision for each clinical project, assigning dedicated clinical project managers and experienced data management professionals to each study. Our certified technicians have years of experience and provide 'round the clock training and support, from start-up through the last patient visit. We ensure maximum efficiency and with timely, accurate results.
Cardiac monitoring & analysis
Our suite of cardiac monitoring technology includes traditional manual and automated ECG recording services. We deliver cutting-edge technology and ECG data analysis, featuring 3-lead and 12-lead Holter monitoring and our 3-in-1 Sentinel® device. Our cardiac monitoring technologies are comfortable and easy to use, maximizing patient adherence. Cloud-based project management and data tracking systems provide 24/7 clinical, technical, and data support.
Leading-edge, cardiac monitoring technology
The multi-modal Sentinel® simplifies cardiac monitoring, allowing research staff to monitor patients based on real-time data with centralized processing of ECG safety data.​
Sentinel Mode 1: Wireless, post-event monitoring
In post-event mode, the Sentinel® allows patients to capture at-home recordings when they experience clinical events. Data from the device is instantly transferred to our cloud-based platform and is available to researchers anytime, anywhere through the research portal.
Sentinel Mode 2: Wireless, Holter Patch recording
The Sentinel® fits into our custom patch for patients to wear comfortably on their chest. The Holter Patch provides continuous recording and data transfer to our centralized lab and secure, cloud-based portal. This allows study subjects to go about their daily lives without interruption while ensuring that valuable data is not lost.
Sentinel Mode 3: Holter cable recording
The Sentinel® can be paired with traditional cable attachments secured to a patient. In Holter cable mode, the device provides continuous recording and data transfer to our centralized lab and research portal.
Traditional monitoring technology
To meet a wide variety of monitoring needs, we also offer 3-lead and 12-lead Holter monitoring and Braemar PER 900 devices, in addition to the Sentinel®. All devices meet current industry safety standards.